Vertical Packed Bed Scrubbers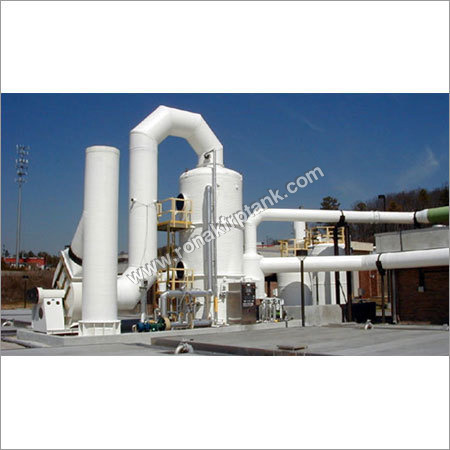 Vertical Packed Bed Scrubbers
Product Description
Bed Scrubbers
The Indusco Environmental packed bed scrubber unit is designed for applications requiring the removal of various types of contaminants from gas streams. Typical applications for contaminant removal include noxious or toxic fumes from chemical processes or odorous fumes from water/sewage treatment and compost facilities. Depending upon each application, scrubbers can be manufactured from speciality metals, fiber glass reinforced plastic (FRP) or thermoplastics. Each scrubber application is individually designed and engineered. Scrubber units are used to help companies comply with emission control for EPA regulations or to preserve the quality of the environment for workers and the community.
To remove the unwanted elements, contaminated air is passed through the scrubber using either positive or negative pressure, created from a fan either upstream or downstream from the scrubber unit. The gas stream enters the scrubber unit near the bottom, travels up through the packed bed section (where the contaminants are actually separated from the gas) where it is vigorously exposed to the scrubber solution, through a demister assembly (to remove the liquid droplets from the existing gas) and then discharged either to the atmosphere or routed back through the original process.
In order to provide the most economical solution for your off gas needs, the following is taken in to account: volume of gas to be treated, type and concentration of contaminants and the required discharge limits. If you do not know the answers to all of these questions, Indusco Environmental engineers will work closely with you to design the system that will best fit your needs.
Specifications:
Brush Hardness: Medium Hardness
Raw Materials: PVC
Vocs Removal Efficiency: 50~80%
Product details
| | |
| --- | --- |
| After-sales Service | Engineers available to serve |
| Automation Grade | Automatic |
| Efficiency | 99.9% |
| Voltage | 410 V |
| Material | Mild Steel |
| Brand | Ronak |
| Capacity | 1000-500000 m3/hr |
| Vocs Removal Efficiency | 50~80% |
| Brush Hardness | Medium Hardness |